Incredible Robotic Surgery | Surgical Associates of Cleveland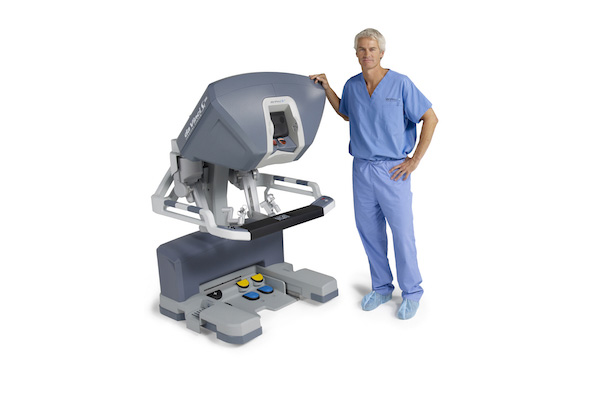 For more than twenty years, the demand for robotic-assisted surgeries have increased exponentially. Many great strides have been made over the past two decades to give more patients their best possible surgery experience and outcome. Surgical Associates of Cleveland wants to make sure everyone in our community is aware of the many benefits of robotic-assisted surgical procedures.
When robotic-assisted surgery was first introduced to operating rooms around the country, there were some limitations which kept the use of robotics available to only a select group of patients. Plus, there simply weren't a great deal of surgeons familiar with the new tools.
Flash forward twenty years and the robotic-assisted procedures are frequently preferred for many conditions.
Common robotic surgeries performed by our physicians:
Hernia repair
Your surgeon will put all intestinal tissue that's been poking through the hernia back to its normal position.
Gallbladder removal
Surgeons using robotic methods can remove your gallbladder through a small incision in your belly button, or through a few small incisions.
Colectomies
If you have diverticulitis, colon cancer, or inflammatory bowel disease, your doctor may suggest surgery to remove all or part of your colon.
Nissen Fundoplication for GERD
If your GERD (acid reflux) symptoms are severe and cannot be eased with medicine or lifestyle changes, your doctor may suggest surgery.
What's so great about robotic-assisted surgery?
Robotic surgery means significantly smaller incision sites. Compared with other approaches–even other forms of minimally invasive surgery–robot-assisted surgery offers greater control over the instruments. It also allows for a better view of the surgical site and reduces physician fatigue. The computer software filters out any naturally occurring hand tremors. Patients who undergo robotic-assisted surgery typically recover faster, experience fewer complications and enjoy shorter hospital stays. Today's robotic procedures are incredibly precise, that precision allows more obese patients to qualify for surgeries than in previous years.
Surgical Associates of Cleveland are your own local experts in advanced robotics technology. Please give us a call to schedule your appointment or visit our website to learn more about our office and services. We look forward to serving you with comfort and care!